In fact the following season, September 19th 1990, a much-changed Candy Stripes outfit, still under the stewardship of Jim McLaughlin, were paired with Dutch First Division club, Vitesse Arnhem in the Uefa Cup first round.
It was the first European game under the new floodlights at Brandywell Stadium and it marked the beginning of a strong and unlikely friendship which was forged between the two clubs and its respective set of fans.
McLaughlin was rebuilding his team following the loss of Liam Coyle, Alex Krstic, Martin Bayly and Mick Neville and among the new recruits were former Republic of Ireland international striker, Paul McGee who arrived from Galway United aged 35 alongside winger, Joe Hanrahan.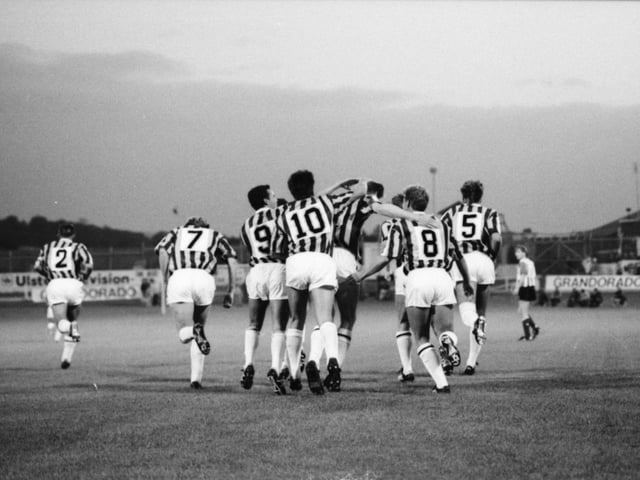 The Vitesse Arnhem players celebrate Huub Loeffens 18 minute goal
during the first leg of their UEFA Cup first round clash at Brandywell Stadium
Hanrahan, who had a two-year spell with Manchester United from 1985-87 recalls Derry's glamorous preparations for their return to European football.

Indeed, the Limerick native found himself lining out against Tottenham Hotspur and his old club, Man United at Brandywell during a dream pre-season where he rubbed shoulders with the talented Paul Gascoigne who had just returned from World Cup duty with England at Italia '90.

It was quite the introduction to his new club . . .

"I had the pleasure of playing for Derry City against Manchester United," said Hanrahan when reflecting back on the build-up to City's European adventure, 30 years on.

"In fact I signed for Derry City in 1990 and two of the first games I played were against Spurs who beat us 3-0 in a pre-season friendly and Paul Gascoigne played. He was by far and away the best player I have ever shared a football pitch with.

"He was just back from the World Cup and arguably among the top three or four players in the world at that stage."

"Our second game was against Manchester United and Fergie (Sir Alex Ferguson) had come over. I had a row with Fergie before that and had walked out of Manchester United. We drew 1-1 with them and I scored the equaliser. It was my first goal for Derry," he recalled proudly.

"So in my first couple of games I played against Spurs and Man United which was a pretty decent start at a new club."

When Vitesse Arnhem arrived at the stadium's changing rooms, they were unmoved by news of a bomb being detonated nearby and while the match went ahead as scheduled, Hanrahan was quickly getting used to a new way of life in the north.

"When I was at Derry we were in the midst of the Troubles," he explained.

"I think the team itself probably reflected the people it represented.

"If I'm not mistaken I think someone in the team suggested the bomb was for me - and planted by our own supporters," he joked.

"I'm not sure if it was done to upset Arnhem to make them aware they were coming into a hostile area. But I'm not sure what the rationale is for planting a bomb."

He had already played in Europe with 1985 FAI Cup winners UCD who lost 1-0 to eventual European Cup Winners' Cup champions, Everton and so taking on a little known team from Arnhem didn't exactly faze him.

Not even the prospect of coming up against skilful Netherlands international full-back, Edward Sturing who was voted Dutch 'Player of the Year' in 1990.

'For the first 45 minutes, left winger Joe Hanrahan made a mockery of full-back Edward Sturing's international credentials as he turned the Dutch star inside out on numerous occasions before Sturing was forced to cynically hack him down on the touchline,' read the 'Journal' match report from the game.

"He was playing right back and I was on the left wing," recalled Hanrahan.

"I have very few memories of the game itself but as far as I recall we certainly weren't out of our depth against them - that's for sure.

"The one thing you were always assured of when you played with Derry was that the team would play football.

"I don't believe over the two games we were in any way out of our depth despite the fact we were playing a top team in Holland. Holland of course were and still are a very strong footballing nation."

It was Vitesse Arnhem's first European experience but they were the rising stars of the Dutch game and included amongst their ranks, classy striker Philip Cocu and Raymond van der Gouw who would go on to star with Barcelona and Man United respectively.

Current Derby County boss, Cocu, who would eventually grace the Brandywell pitch two years later, was ruled out of the two legs after breaking his ankle but van der Gouw was well worked by the City attack.

Hanrahan was among the chief tormentors of the Dutch visitors in the opening half but indecisiveness in the home defence ultimately proved fatal on 18 minutes as teenage striker, Huub Loeffen raced onto a seemingly harmless high ball and outpaced the Derry defence before coolly lobbing Tim Dalton for the only goal of the game.

Vitesse coach, Bert Jacobs professed himself 'quite satisfied' with the 1-0 win and indicated he didn't expect to encounter any problems in the second leg on Tuesday, October 2nd at the Monnikenhuizen Stadium in Arnhem.

"I expected Derry to play aggressively and lift their game. In fact, we expected more from them after we had opened the scoring and the difference between full-time players and part-time was clearly evident on the night.'

It was a valid point, agreed Hanrahan.

"Nobody rated the League of Ireland in any shape or form. But we liked the idea of pitting ourselves against teams where we weren't expected to do particularly well.

"Football wise I never felt we were inferior. I certainly wouldn't have said that about people like Felix Healy who was a hugely confident footballer.

"We never felt we were any less football players than the Dutch. The obvious thing when you're playing a team like that is they're full-time. It's their job, they're doing it every day of the week and we're not.

"The Derry team were fit. They were just that little bit sharper at everything. Their finishing, their tackling, their patterns were crisper and they simply don't make as many mistakes as a team that are amateur."

Star performer from the first leg, Hanrahan sustained an injury in a league match against Waterford at Kilcohen Park and was to miss the second leg.

However, he has fond memories of the occasion as he joined ex-Derry City forward, Jackie Fullerton for live commentary duties for UTV in Arnhem.

"In the second game I was injured. Derry supporters won't be surprised to hear that," he laughed. "I actually did commentary for UTV with Jackie Fullerton on the second game.

"That was my only involvement in the second leg out there. Jackie Fullerton asked me if I would come and sit with him and do the commentary so I did. That was a bit of fun as I had never done that before.

"We gave a very good account of ourselves."

A young Paul Hegarty had never been abroad prior to that trip to Holland and had to quickly organise a passport to join the team.

The Ballindrait man admitted Derry never really believed they could turn the tie on its head.

"For the younger boys in the squad we didn't believe we would go on and win and we were just there to enjoy ourselves more than anything else."

Hanrahan agreed the general mindset of the team wasn't one of optimism.

"Did we ever believe we could beat them over the two legs? Looking back now and my memory is vague, I would say we probably didn't believe enough we could beat them over the two legs.

"So there's that understandable sense of, 'let's give a good account of ourselves and a good account of the league.

"Nobody expects us to win this tournament anyway and let's see how we get on. And I suspect that was probably the mindset we had when playing against Vitesse."

Despite those reservations, Derry almost shocked their hosts with arguably their best display of the season.

Hegarty actually produced a man of the match display and the Vitesse fans began to turn on their own players, jeering and even singing Derry City songs!

Paul Curran was denied by van der Gouw late in the game as Vitesse held on for a scoreless draw - Loeffen's goal from the first leg proving the winner!

Derry's European journey was over at the first hurdle once more but McLaughlin's troops bowed out with their heads held high having given their Dutch hosts a scare.

"We came here with everyone expecting us to do badly but we did well. It's a great result for the club and for Irish football in general," said an immensly proud Jim McLaughlin afterwards.

Vitesse went on to defeat Dundee United convincingly in the second round but their maiden Uefa Cup experience ended in the last 16 against Sporting Lisbon.

It wasn't the last Vitesse saw of the Candy Stripes as the teams were once again paired together in the first round of the Uefa Cup competition two years later where we take up the story of Derry City's 'European Dance' next week.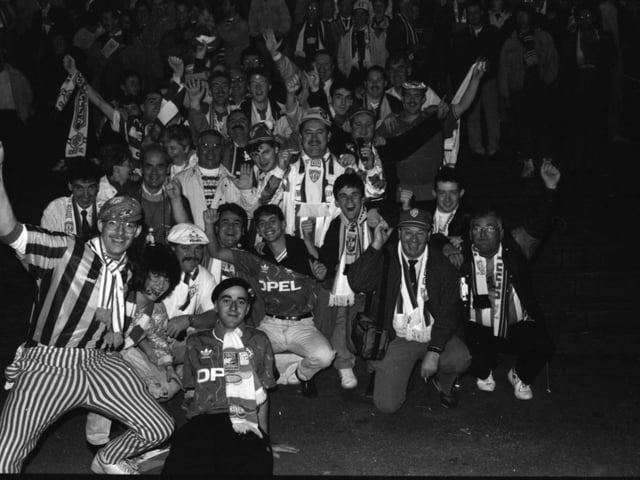 A group of Derry City fans pictured in the Munnikenhuize Stadium
before the start of the Uefa Cup first round, second leg tie.
Bron: Derry Journal / Foto's SV - DJ