A DERRY CITY signed shirt adorns a wall at Vitesse Arnhem's Supportersclub supportershome of Vitesse - evidence of an historical link between the two clubs which stems back 30 years!
It was a gift from Brandywell Pride Supporters Club who have forged a 'special relationship' with several Vitesse Arnhem fans.
And it hangs proudly beside a large poster depicting the Dutch club's European results against the Candy Stripes - a throwback to a 'happy time' for Vitesse supporters.
Remarkably the paths of the two clubs intertwined on two occasions as they were paired together in the UEFA Cup first round in 1990 and again in 1992.
The first of those meetings was the Dutch club's maiden voyage in European competition which took them to Brandywell Stadium in September 1990.
In a documentary 'Back to Derry', filmed in 2015, Vitesse fans, Rob Teerink and Joroen van der Weegan return to the Brandywell to revisit the scene of their hometown club's first European victory.
They visit the Oak Grove Bar and are handed a large Brandywell Supporters' Club flag from City fan, Kevin 'Scaldy' Cairns'.
And while Derry City FC and Vitesse don't have a close working relationship, the two sets of fans have forged a lasting link which 'remains special', according to Vitesse supporter and author, Ferry Reurink.
Reurink made two recent visits to watch the Candy Stripes. On August 24th, 2007 in a 3-0 win over Bray Wanderers Sammy Morrow lobbed the keeper for Derry's third goal from 16 yards, remarkably similar to Huub Loeffen's winning goal for Vitesse at the venue - and in the same net!
And last season he returned against Shamrock Rovers as part of his research for his book to be published in September, 'Vitesse Europa In' in which he documents the connections made between Vitesse fans and the supporters from the club's European opposition.
He was just 19 years of age in 1990 but recalls fondly the connection made between the two sets of fans.
"The Derry City shirt is on display at the supporters club next to the new stadium," he confirmed. "It's called Monnikenhuizen after the old stadium - that's the only thing that moved from the old stadium - the name.
"You would find some memorabilia from other teams we played against but there's more from Derry to see, especially the shirt.
"I think some of the Vitesse fans got the shirt from Brandywell Pride when they were in Derry and brought it here.
"One of the guys who was in the documentary said he wanted to share it with more of the fans and decided to hang it at the home of the supporters club.
"Derry is always special to us as it was our first ever European match but also because of the memories from those games.
"We also have a lot of new supporters who won't remember Derry City. We had an average of 7,000 in the old stadium and when we moved to the old stadium in '98 there were suddenly 25,000 people. So not everyone knows about the stories and the importance of the games against Derry City and so it's nice to have this history on display in the social club.
"The 90s were special," he added. "There was no segregation of fans whereas now you can't mix. So while there's the historical side of meeting Derry, the time we played Derry is, for a lot of people and for me, also a happy time.
"And the Irish people always connect well with the Netherlands of course.
"There are supporters still in contact with people from Derry because of our games in Europe and the fact we played each other twice which is very special.
"The Irish people created a great atmosphere and the second time we played each other more people came over from Derry. And more people from Arnhem went to Derry as a result."
Ardmore native, Cyril Hargan was living in London at the time of Derry's first trip to Holland and the City supporter recalls a memorable trip and an unbelievable twist of fate some 13 years later.
"Myself and a Dublin man headed over to it from London," said the local referee. "We were there for the week. We actually went to Arnhem a couple of days early and went out to meet the team one day. We met the President or general manager and he invited us on the bus with the team to training.
"We were also invited the following night after the Derry City match back into the club and I was along with the captain (Edward) Sturing and got photos with him.
"I swapped jerseys with a big fella during the match. Thirteen years later Vitesse were playing Liverpool in 2003 and I went into a bar just outside Anfield and this big guy, a Vitesse supporter, came over to me and we started chatting.
"He told me he was in Derry for the UEFA Cup match and I told him I was in Arnhem. I had photos in my pocket from 13 years previous and gave them to him and asked if he knew anyone. He went away and the next minute there was a lot of noise from where he was with the supporters and they all surrounded me.
"It turned out the boy I met in the bar in Liverpool was actually the same person I swapped my jersey with 13 years before. It was unbelievable!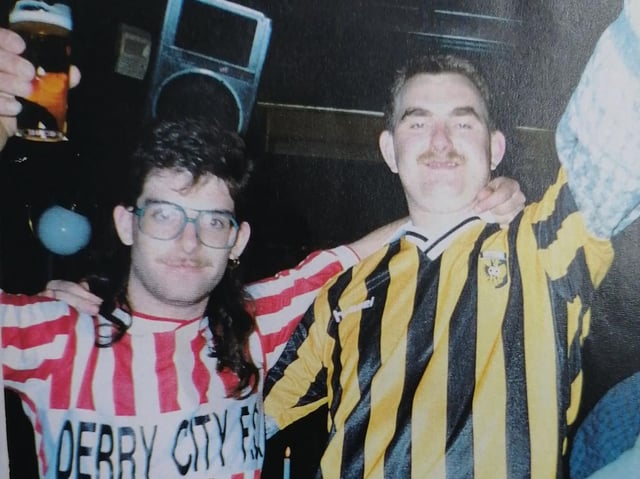 Derry City supporter, Cyril Hargan gets friendly
with a Vitesse supporter he would meet again 13 years later.
"They were the Vitesse Arnhem No.1 supporters' club. His girlfriend, now wife, actually works in the clubroom in the social club.
"In 2015 Vitesse came back and did the documentary in the Brandywell and myself and him and his girlfriend met up and had a few drinks at the Abercorn Bar. It was unbelievable. I met him three times.
"I had long hair down my back in Arnhem and he was about 18 stone. When we met in Liverpool he was about 25 stone and obviously I had my hair cut so that's why we didn't recognise each other. Once he saw the photograph he went crazy.
"They did a story in the Vitesse Arnhem programme about it not long after that chance meeting.
"There's another boy we met at that time in 2015 and he has come over and done the Derry marathon three or four times," added Cyril.
So the connection between the two sets of fans remains strong. As for matters on the pitch, the second meeting between the two clubs in 1992 was less of a contest.
While Jim McLaughlin's troops had come so close to shocking their Dutch counterparts two years previously, Roy Coyle's much changed City side met a much superior Vitesse.
In 1990 the Vitesse fans turned on their own team as Derry held them to a scoreless draw and came close to getting a favourable result.
"That was typical of Arnhem," explained Ferry Reurink. "When it's not going well our supporters get cynical. It was 0-0 but it was not disrespectful of Derry.
"The story behind that was because the club had raised the prices for the team's first UEFA Cup game. They doubled the price. Normally it was 10 guilders but they charged 25 guilders.
"So a lot of people were already cynical about the game. They had to pay a lot of extra money and they were expecting to see some extra good football as they paid more than double. So that mixed with the fact the match was 0-0 and it wasn't a good performance. It was much better in 92," he added.
Indeed, it proved a bridge too far for Coyle's side in Arnhem during the first leg as a brace from John van den Brom and a Hans van Arum strike saw the home side coast to a 3-0 victory. A 'killer goal' in the 91st minute shattered the dream of Coyle's battling charges.
Derry Journal sports reporter, Arthur Duffy summed up the difference in class: "One touch football was the order of the day and the way the Dutchmen moved the ball around the park was a joy to watch.
"Clearly technically superior this was a much better Vitesse Arnhem than that which met Derry in this competition two years ago."
Vitesse won the return leg at Brandywell 2-1, Paul Mooney scoring a consolation for City. The Dutch club then went on to defeat Belgian outfit, KV Mechelen before losing out to Real Madrid in the last 16.
It would be three years before Derry City were back in Europe when they were paired with Bulgarian side, Lokomotiv Sofia in the Cup Winners' Cup.
And that's where we take up the story of Derry's 'European Dance' next week.
A Derry City shirt hangs proudly at Vitesse Arnhems social club next to the stadium.
Bron: Derryjournal / Foto's DJ